Check us out at the Care Quality Commission...
The following services are registered with the Care Quality Commission:
• Burrow Down Community Support
• Burrow Down Residential Home
Please click on the link below to read our most recent inspection report's.
To View Care Quality Commission Reports Click Here
"Exceeding your expectation's every time"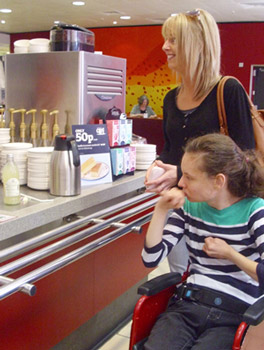 We provide quality respite and short break's at our luxury four bedroom cottage which is situated within the grounds of Burrow Down Support Services on Preston Down Road, Paignton.
We aim to deliver a high level of customer satisfaction and value for money by providing a mix of 24 hour personal care and more general 'enabling' support promoting independence, fun and community involvement. Our aim is to ensure the people we support enjoy a stress free stay. Our advanced reservation system offers a high level of flexibility and choice so you can book breaks at times and dates to suit, as well as a 'last minute' reservation system, to provide support in times of crisis.
Opportunities are also available for you to enjoy holiday's or short breaks away from Burrow Down Cottage. We can assist you in the planning and booking of a holiday within Great Britain or Abroad and provide a competent personal assistant of your choice to accompany you.
We aim to meet your needs by putting you at the centre of all decision making. Our experienced and highly skilled staff teams work closely with you and your circle of support to develop and implement appropriate person-centred pathways that will enable you to achieve the outcomes you want.